Ellen Tsaprailis, November 10, 2021
Photo credit: Lindsay Ralph
Off-Grid Living: New Thesis Project is Reviving a 50-Year-Old Sailboat in the Middle of Carleton University's Campus
A 50-year-old sailboat originally destined for the junkyard is getting rebuilt just outside of Carleton University's Architecture Building for a master's thesis project focused on creating a sustainable reuse model.
Named Decision, the 27-foot Catalina sailboat was purchased by Azrieli School of Architecture & Urbanism graduate student Matthew Gillard who is actively learning how to repair the boat himself.
"The idea of the thesis is to restart the life cycle of this 50-year-old sailboat by repairing the interior and exterior and eventually turning it into a fully electric, off-grid tiny home on water. There's a lot of invested energy and carbon in this boat and I am looking at how that's worth holding onto," says Gillard.
Having been around sailing for most of his life, Gillard is interested in sailing as a hobby and also the design potential.
"We're in a culture of disposal with our cellphones and laptops and even our automobiles," says Gillard. "Whether people are repairing something as simple as a bicycle or as complicated as doing this electrical conversion on a sailboat, I think the argument is you can learn to do these things. You can learn to fix things and I'm learning by doing, as an example, or as a study of how this culture of repair works. So, I think that architecture can learn from the sailing community."
Architecture Associate Professor Johan Voordouw is supervising Gillard's thesis project and says this project encompasses a number of larger themes such as the idea of the circular economy which is becoming more popular to reuse and recycle.
"We are in a climate crisis. If this year wasn't clear enough that we're in a climate crisis, I don't know what year is going to get people convinced that we can't see the end of it unless we start to change the narrative around how we interact with our environment.  What I think is interesting about this project is that it is taking a community that's quite distanced from architecture—the sailing community—and it's taking that knowledge and projecting it onto another industry," says Voordouw.
"The idea that as soon as the building is finished it doesn't need anything—I think this is a real fallacy and what's beautiful about this thesis. It shows that if you want to continue enjoying sailing, you have to actively participate in making sure that your sail is fit for its purpose."
Gillard agrees that there is a corresponding value in operability. The wind-powered boat has been deteriorating for some time and Gillard has had to focus on fixing the structure and water tightness as the essential repairs. Refinishing the hull below the waterline has been his goal for the fall and he'll then move onto researching and designing a better and more sustainable interior space.
"There are various challenges with designing for a small space within the envelope of a sailboat," says Gillard. "I'd like to provide the flexibility and adaptability for living in this small space for extended periods of time. Along with the theme of repairability, the design should be affordable, simple and repairable. This includes the plumbing, mechanical and electrical systems."
Gillard's plan is to complete the repairs and have the design ready to defend his thesis next spring.
Voordouw is hoping to see how Gillard's design will stand up to potential threats in the future when there is a systems breakdown. "If you are in the middle of a lake, repair becomes absolutely key, because it's not like what we can do in the city and just simply get in our car and go to Home Depot or call someone else to repair it. That's why as a thesis I think it's interesting because how might you make a system redundant enough that you can fix this thing in the middle of the lake?" says Voordouw.
While the boat may not be able to sail on the water by the time he defends his thesis, the plan is for Gillard to be sailing it next summer.
Another Architecture Design Highlight in Middle of Campus
"I think this is part of lineages of really amazing projects at the School of Architecture," says Voordouw referencing two recent tiny houses, one of which can be seen on University Drive close to the Rideau River. "I think what's unique about this is when we get into the systems—knowing there will be complications with the electrical systems and having it work with the plumbing system—and make it work and look good.
"That's why I think having a completely holistic look at this is so interesting and important for Matt. There may be moments where we might have to pull someone in who has done this stuff before so that it can be done safely. But at the end of this project, he's going to have a complete understanding of every single nut, bolt and screw on the boat. The complexity of this project is an exciting rarity for the school."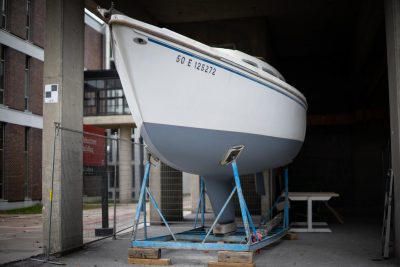 Updates on Gillard's progress can be found on his YouTube channel.
Share:
Twitter
,
Facebook