Tyrone Burke, November 26, 2019
Photo credit: Luther Caverly
Carleton's Carmen Robertson leading important project on the Indigenous art of Norval Morrisseau
With vivid hues separated by bold black outlines, Norval Morrisseau's depictions of Anishinaabe culture and traditions launched a style of painting that has become synonymous with Indigenous art in Canada.
"Morrisseau created a new visual language, an Indigenous form of painting — sometimes called Woodland Art," says Dr. Carmen Robertson, a professor of art history at Carleton and Canada Research Chair in North American Indigenous Art and Material Culture.
"This form of painting didn't exist until he started to paint in the late 1950s. Morrisseau was deeply committed to Anishinaabe visual and spiritual traditions, and he drew from many different sources to create something that is wholly unique. He didn't set out to respond to European traditions of art, instead he created a visual language based mostly on Indigenous ways of knowing."
Morrisseau is considered the 'miishomis' or 'grandfather' of a new artistic movement that has impacted in the history of Canadian art, and his work hangs in museums in Canada and internationally — but there has never been a comprehensive academic study of his life and work.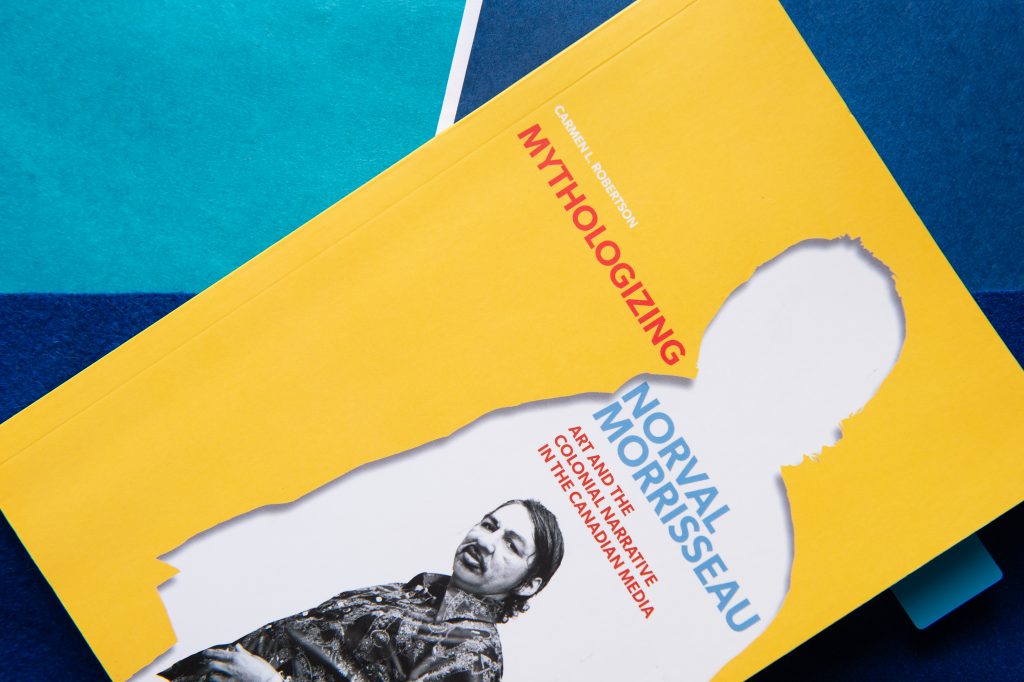 That's why Robertson is leading "The Morrisseau Project, 1955-1985." It's a comprehensive investigation of Morrisseau's life and work during the decades that he produced many of his best known art works, and it is the first such study of a contemporary indigenous artist in Canada.
"This study is different from other art history projects," Robertson says.
"In addition to using art historical tools for research and analysis, we will draw from Indigenous methods to identify concepts of visual communication, story, and memory through partnerships with Anishinaabeg communities."
Robertson and co-investigator Ruth Phillips are working with a diverse group of collaborators to catalog Morrisseau works held by permanent and private collections in North America and Europe. Their analysis of this body of work will culminate with a large publication and exhibition.
Academics, curators, and members of the Norval Morrisseau Heritage Society make up the team. A number of graduate students at Carleton are assisting in data collection, which is currently underway.
Collections of Morrisseau's art at the National Gallery of Canada, the Canadian Museum of History and the Indigenous Art Collection at CIRNAC are important sources for Robertson's research. The goal of the first phase of the project is to assemble and confirm the body of work he created during the first three decades of his practice.
Morrisseau's influence isn't only a product of his distinctiveness and skill as an artist. He also thought of himself as an educator and travelled to communities all over northwestern Ontario during the 1960s. He taught his style of painting to young Indigenous artists, introducing them to contemporary forms of expression.
"Morrisseau opened a lot of doors in the 1960s and 1970s," says Robertson. "And Indigenous artists took full advantage of these new opportunities, creating their own artistic directions."
But even as the reach and recognition of Indigenous art began to grow, it remained a struggle for artists to have their work understood on its own terms. And that's a challenge that the art world continues to reckon with.
"Indigenous epistemologies have not been thought about clearly in art history," says Robertson.
"It's important to theorize about Indigenous art history through an epistemological lens that is not Western. The notion of storytelling is one that follows many ways of knowing, from many cultural perspectives."
Some of the art being produced by Indigenous artists today has strong roots in Indigenous forms and traditions. Robertson's Canada Research Chair is exploring one of them: contemporary Prairie bead work, which has direct roots in historical art made with beads and porcupine quills.
Glass beads were introduced to the Americas during the 16th century and made their way west. When they reached the prairies, Indigenous people quickly adapted to this new technology and incorporated them into ceremonial regalia and commodity art works.
Those traditions are still alive, and they continue to evolve.
"We've seen an amazing renaissance of beadwork across the country," says Robertson.
"But the prairie aesthetic is what I'm most interested in. I'm working with contemporary artists, and talking to them about their practice. How they look back to museum collections, how they learn from aunties and grannies in their communities, and how they look forward. I'm really interested in the way that beaders create communities through beadwork."
Robertson is working with artists such as Ruth Cuthand, a Cree-Scots artist who beads the spread of pathogens through colonialism as a form of commentary. Métis artist Katherine Boyer uses beadwork to revitalize stories and knowledges around trapping and living on the land.
"They are using a traditional medium to comment on some very contemporary ideas," Robertson says.
Examining those ideas from an Indigenous perspective is critical to accepting the art on its own terms.
"When I started teaching indigenous art history in the early 2000s, every article I published had to include Western critical theory — Foucault always had to be quoted," says Robertson, a Lakota woman of mixed ancestry.
"Today, we are looking at art from within our communities, within our teaching, within different ways of thinking, and different ways of knowing. To me, that is such a step forward. It's exciting to theorize Indigenous art histories in ways that don't necessarily conform to what has been written about Western forms of art."
Robertson's research collaborators include Greg Hill of the National Gallery of Canada; Michelle Lavallée of Crown-Indigenous Relations and Northern Affairs Canada's Indigenous Art Centre; Dr. Gerald McMaster of OCAD University; Dr. Richard Hill of Emily Carr University; Dr. Michelle McGeough of UBC; Alan Corbiere, an Anishinaabe community member and PhD candidate at Carleton; Christopher Green, a PhD Candidate at the City University of New York; Linda Grussani of the Canadian Museum of History; Jessica Wilson of Westerkirk Works of Art; Anong Beam, an Anishinaabe community member; Dr. Trudy Nicks, Emeritus Curator of the ROM and a member of Norval Morrisseau Heritage Society; and Richard Baker of Norval Morrisseau Heritage Society.
Share:
Twitter
,
Facebook