Tyrone Burke, November 19, 2020
Funding from Canada Foundation for Innovation to provide infrastructure for the study of the molecular biology of the SARS-CoV-2 virus at Carleton
Many patients who succumb to COVID-19 die of pneumonia, but some of these patients do not only have viral pneumonia. There are some COVID-19 patients who develop a secondary bacterial pneumonia infection – and this could contribute to their deaths.
"The viral infection could be affecting the immune system, and some patients might not able to respond to and clear bacterial infections when they are infected with the virus," says Edana Cassol, an Associate Professor of Immunology and Infectious Disease in Carleton's Department of Health Sciences.
"This is particularly important in context of the critically ill. When a patient needs to be intubated, there is a fairly high risk of contamination and exposure to pathogenic bacteria during ventilation."
Cassol is working with Joerg Overhage of the Department of Health Sciences to determine whether COVID-19 could be reprogramming the function of immune cells, and altering their ability to respond to bacterial infections. The research focuses on bacteria that are commonly found in ventilators.
"If there is some level of immune dysfunction, we might be able to target it with an existing therapeutic to restore immune function, so that patients are able to respond to the bacterial infection.
In a separate project, Cassol exploring whether the Bacillus Calmette-Guérin vaccine could be added to COVID-19 vaccines to help make them more effective in vulnerable populations.  BCG is commonly used as a tuberculosis vaccine in some parts of the world – though not in Canada – and can produce a strong immune response against a number of different infections.
Cassol is one of four researchers whose coronavirus-focused work is being funded through a $250,000 grant from the Canada Foundation for Innovation's Exceptional Opportunities Fund.
With these funds, her lab will be purchasing a multimode plate reader that will allow her to study how cytokines and proteins produced by immune cells affect the functionality of the immune system.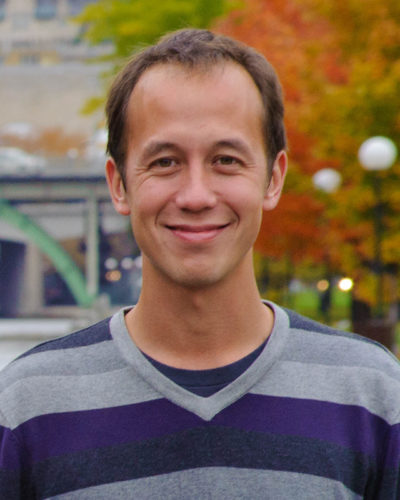 Associate Professor of Biology Alex Wong received funding for two of his research projects through the Exceptional Opportunities Fund grant. He's evaluating the use of ultraviolet light for N95 mask decontamination, and is studying the persistence of the SARS-CoV-2 virus on surfaces in hospital environments. With the new funding, his lab will purchase quantitative polymerase chain reaction (qPCR) testing instruments that will enable faster and more reliable testing for the presence of the virus.
Ashkan Golshani has developed a novel small protein that could one day become a treatment for COVID-19. Working with Frank Dehne of Carleton's Institute of Data Science, the Professor of Biology used artificial intelligence to engineer a peptide that has been 75% effective at disrupting the protein bind between the SARS-CoV-2 virus' spike protein and the ACE2 receptor in human cells. It is still uncertain whether this novel, synthetic peptide will be that effective in humans, but the Exceptional Opportunities Fund grant will fund the purchase of surface plasmon resonance (SPR) technology that will help examine whether the peptide is disrupting the spike protein in living cells.
"Not only do we now have the ability to understand alternative protein-protein interactions, we can also design new proteins that can interfere with their communication," says Golshani.
"There has been a lot of work happening on vaccines, but less on treatments. We are trying to design one. Usually, the drugs we take are based on small compounds, and these can have severe side effects. Proteins should have fewer side effects, because they are way more natural for our body. That's why the possibility of success is greater with this type of treatment — the toxicity is significantly reduced. This new peptide reduces COVID-19 infection by 75%, which shows it could be a good treatment option. It's fantastic news."
Kyle Biggar is also seeking to identify peptides that could be used as anti-viral treatments for COVID-19. The Assistant Professor of Biochemistry has developed a number of peptides that have anti-cancer properties and has adapted this research toward disrupting critical protein interactions that occur between SARS-CoV-2 and humans. By studying other viruses that infect humans, such as the 2003 SARS virus, Dengue and Zika, Biggar and his collaborator, Dr. James Green, have identified 279 possible protein-protein interactions that could potentially be disrupted with an anti-viral peptide.
Biggar and his team will be using fast purification liquid chromatography (FPLC) equipment purchased with the Exceptional Opportunities Fund grant to isolate viral proteins and test his peptides so they can identify those that have the highest potential for treating COVID-19.
Share:
Twitter
,
Facebook