Tyrone Burke, May 31, 2022
Mapping Food Waste: Deciphering What's Preventing Innovative Waste Reduction Approaches From Scaling Up
A vegetable sprouts from a seed in the ground. After you use it, its scraps can be composted, and returned to the earth. This enriches the soil for the next crop, and then the cycle begins again. There is an inherent circularity to the food that we eat, but too often, food waste interrupts it.
Each year, millions of tonnes of food are wasted in Canada – even as people go hungry. As individuals, nearly all of us contribute to this paradox. But individuals are not the only culprit. Food systems play a major role too.
"There has been a lot of work done on why individuals waste food, but it is also important to understand the role of grocery stores. Because you are subject to what they have to offer," says Leanne Keddie, an Assistant Professor of Accounting at Carleton University's Sprott School of Business.
Keddie studies sustainability accounting, and is one of the principal investigators for "Waste? Know More! Igniting behaviours for circularity in the food supply chain," a Social Sciences and Humanities Research Council (SSHRC)-funded study that is seeking to foster sustainable food systems by identifying ways that waste can be eliminated at every stage of production and consumption. This $234,000 grant is funded through the Imagining Canada's Future Ideas program, and brings together researchers from Carleton, Dalhousie University, Ontario College of Art and Design, University of British Columbia, University of Lethbridge, and University of Saskatchewan.
The first step to reducing food waste is understanding the factors that are contributing to it in the first place. Right now, there isn't a clear picture of Canada's food system as a whole. "There are really cool innovations happening, but they are only happening in pockets. We are asking why these innovations are not being scaled up," says Keddie.
Keddie cites the Square Roots program in Halifax, Nova Scotia. Students at St. Mary's University recognized that farmers were producing fruits and vegetables that grocery stores were not buying. At the same time, parts of Halifax were food deserts where people could not access fresh produce — typically lower socio-economic areas without a nearby grocery store. So, Square Roots partnered with farmers on a model that brings the extra vegetables to those communities, and uses a pay-what-you-can model.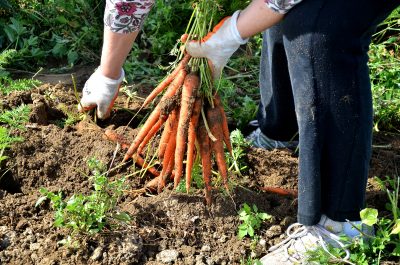 "There were people who did not have access to high quality fruits and vegetables, and food that would otherwise have gone to waste. It is one small example of an innovation, and it is very localized. But there are other initiatives like it, and our question is what's stopping these great ideas from scaling up? It could be policy, behaviour, or incentives. We want to identify what the barriers are."
The case of Square Roots highlights a persistent problem in Canada's food systems: not enough food in some places, and a lot of waste in others. And though we know that this disparity exists, is not well quantified.
"Right now, some grocery chains do not even gather food waste data. Their systems are not built to handle it, so they do not have the underlying accounting data to even know the scale of this problem," says Keddie.
"Food waste just part of the way that they always done things. But that is where the accounting piece of this project comes in. There are ways to reverse engineer that knowledge with information in inventory management systems. If social and environmental data is not collected, then decisions will be purely financial. But as organizations broaden their view of what should inform decisions, having this information would change the way that decisions are made. Better data can help drive the transition to a circular economy."
This would also help lower greenhouse gas emissions. Food waste is an outsized contributor to climate change. When organic matter decomposes in a landfill, it releases methane, a greenhouse gas that is even more potent than carbon dioxide. This only occurs when food decomposes without oxygen, so preventing food waste can make a significant contribution. And there are, well, some low-hanging fruit.
"Saving ugly fruits and vegetables by reprocessing them into quick pick-up meals reduces waste, while not offending current sensibilities about how food should look," says Keddie.
"And there can be rules that prohibit giving away some fruits and vegetables, or labelling requirements that result in imported foods being discarded because they do not meet Canadian requirements."
There are many different factors that can contribute, and this initiative will conduct a broad assessment of what they are through a mapping exercise. "We are going to lay this all out — the innovations, the barriers, and the players. We want to get a snapshot of the food system as a whole," says Keddie.
Then, the researchers will conduct interviews and surveys to gather insight on innovations, and hold participatory design labs that bring people together to solve problems and co-create solutions.
"This will help identify pathways forward to help reduce those barriers, and let innovations start scaling up. There are environmental, social, and business benefits to reducing food waste. It reduces greenhouse gas emissions, and can improve health by increasing access to high quality food. And from a business perspective, grocery stores have really thin margins. Reducing waste helps those margins, and that gives more money for other projects."
Share:
Twitter
,
Facebook