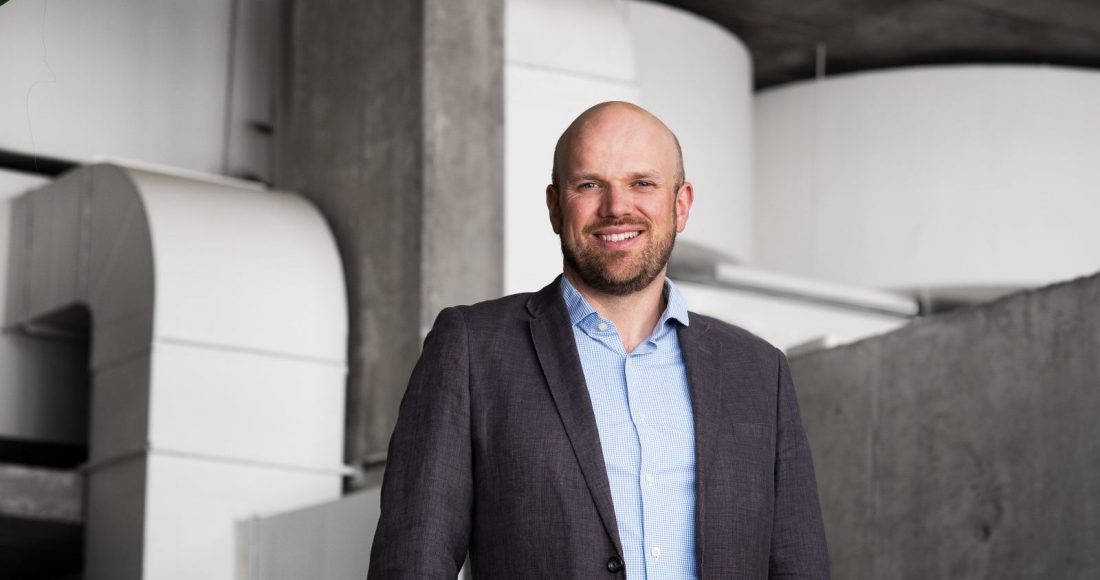 Ellen Tsaprailis, June 20, 2022
Photo credit: Lindsay Ralph
Carleton's Liam O'Brien is Focused on Delivering Sustainable Buildings that Prioritize Occupant Comfort
When Liam O'Brien thinks about sustainable building design, his priority is to research how people use buildings and provide recommendations to prioritize occupant comfort.
A professor in The Department of Civil and Environmental Engineering, O'Brien studies the interaction between people and buildings to simultaneously improve occupant comfort and energy efficiency.
Given that energy use in residential and commercial buildings accounts for 22 per cent of greenhouse gas emissions in Canada and nearly two-thirds of building energy is used for space heating, conserving energy while addressing comfort is the ultimate goal.
"It doesn't matter how well we plan and design the technical aspects of a building," says O'Brien. "If it doesn't integrate well with people and their comfort and preferences then it's not going to be a successful building."
O'Brien explains that a building's performance depends largely on how people behave within the building such as the way they open and close their windows, adjust their thermostat, plug equipment in, and control lighting. In contrast, designers often merely conceptualize people as recipients of building services rather than active participants in buildings.
In the past, the vast majority of energy used in buildings was for heating and cooling to compensate for poorly-insulated and leaky envelopes, as well as inefficient lighting—a far cry from how energy efficient they are today.
"As we've improved those aspects, the role of the occupant has increased significantly," says O'Brien. "Two identical homes with the same architecture could vary in energy use by a factor of three or four because of people's behaviour."
One of the questions O'Brien is researching is, why would one occupant use up more energy than another? What are the specific actions occupants are taking and what can be designed to control the energy use of a heavy consumer?
Focused on the experience of occupants in buildings in Canada, O'Brien's research is used to support building code decision-making. His research comes in handy in Ottawa as he and some of his students regularly attend design meetings for new Carleton University buildings, while helping to optimize existing buildings across Ottawa.
O'Brien closely collaborates with researchers from numerous fields—engineering, architecture, industrial design, economics, and psychology to develop a more complete understanding of occupants and their behaviour and comfort in buildings.
His team, the Human Building Interaction Lab, routinely perform field studies and surveys around the country to gain a more holistic understanding of the four domains of indoor environmental quality: thermal comfort, visual comfort, acoustic comfort, and indoor air quality.
International Scope
O'Brien also co-leads an international and interdisciplinary project with the International Energy Agency's Energy in Buildings and Communities Programme, specifically Annex 79 called the Occupant-Centric Building Design and Operation which involves more than 100 researchers from around the world.
Collectively, the team is developing new knowledge on behavioural and comfort theories, while also establishing best practices for occupant-centric building design and controls. O'Brien is currently finalizing an open-access book to make this research more accessible to building practitioners.
Long-Term Effects of Remote Work
Remote work on a large scale is a new factor that O'Brien is spending time researching to see how it holistically impacts energy use in cities.
"We just completed a study where we had a group of participants for whom we measured their home energy, their office energy, their transportation energy and the energy associated with their internet use," says O'Brien.
"This is a really important topic because it looks like society is going to change, permanently in some cases, and this is not something we anticipated happening to the same extent it is. There are massive implications as people who are home during the day are keeping their whole house more comfortable than they used to. They may have installed air conditioning for the first time because before they could tolerate a little bit of overheating but now they're struggling to work in overheated spaces."
Office buildings still use 70-to-80-per-cent of the total energy used when the buildings were full because they are generally not designed to adapt their operations to low occupancy circumstances.
"There are large discussions of the future state of work and the fate of largely vacant office buildings. Entire departments have moved online, potentially permanently," says O'Brien.
"But conversely, people want bigger homes and that has major implications on affordability and where people choose to live. If you now want two extra bedrooms because you have a couple of people who need separate offices to accommodate permanent work-from-home, it is unlikely you can find an apartment building that will have that. So, you are forced into a certain type of home and the implications are far reaching."
Share:
Twitter
,
Facebook