March 30, 2016
Photo credit: Luther Caverly
Reassembling Indigenous Heritage
Ruth Phillips is using digital technology to reassemble items of artistic, historical and linguistic heritage collected from the Indigenous peoples of the Great Lakes during four centuries of European contact.
Phillips, Canada Research Chair in Modern Culture and Carleton University professor of art history, conceived of the Great Lakes Research Alliance for the Study of Aboriginal Arts and Cultures (GRASAC) with co-founders Heidi Bohaker (University of Toronto) and Darlene Johnston (University of British Columbia) in 2004. They partnered with the Ojibwe Cultural Foundation, the Woodlands Cultural Centre and other Canadian and international experts to track Great Lakes heritage items housed in Canadian and European collections. The Canada Foundation for Innovation and SSHRC provided funding for the project.
"GRASAC is an international collaboration of researchers based in Aboriginal communities, universities, museums and archives working together to digitally reunite Great Lakes heritage," explains Phillips.
The GRASAC Knowledge Sharing Database (GKS) provides a repository for researchers to input, analyze and comment on archival documents, art objects, historical photographs and other items physically housed elsewhere. Early museums broke up collections for exhibits and traded objects with other museums—losing the integrity of collections and obscuring their histories in the process. These practices led to errors in attribution, documentation and cataloguing. "Colonial collecting practices," says Phillips, "have produced a kind of giant jigsaw puzzle whose pieces are spread around the world. You see a better picture if you bring them all together."
The GKS allows scholars from multiple disciplines and in distant locations to share their expertise and develop new understandings of items of Great Lakes heritage to which little attention has been paid for many years. The multidisciplinary approach also seeks to better approximate holistic Indigenous ways of knowing. Last year, GRASAC researchers began to integrate the critical component of Indigenous language discourse, both as a way to interpret meaning and as a support for Indigenous language teaching.
The GKS holds 26,000 thousand Indigenous language items and over 5200 records for art and other heritage items. GRASAC has also created a pilot project for a public website to share its research.
It was during her directorship of the University of British Columbia's Museum of Anthropology (MoA) from 1997 to 2002 that Phillips first conceptualized the use of digital technology to resolve these challenges. She headed up a successful $41 million CFI application for the museum's physical and virtual-space renewal. It funded the creation of the Reciprocal Research Network (RRN) which links MoA's electronic catalogue to those of other North American and European institutions and to Indigenous community researchers. "The GKS," says Phillips, "is the child of the RRN. Although not identical, it has a clear family resemblance."
This innovative use of technology has proven influential internationally and has been studied by researchers working in other regions. It is one of three digital projects to be highlighted in Volume 1 of  the Smithsonian Institution's authoritative Handbook of North American Indians.
Phillips's work on the GKS was recognized in 2010 by the conferral of the $250,00 Province of Ontario's Premier's Discovery Award in the Humanities. In 2015 the American Anthropological Association's Council for Museum Anthropology awarded her its Lifetime Achievement/Distinguished Service Award.
Looking back, looking forward
In addition to her own research and writing on museums and Indigenous arts, Phillips says the most rewarding aspect of her career has been her teaching. "Carleton University provided unique opportunities for training in Aboriginal art history at a time when very few universities in North America included these arts in their curricula. Specialization in the Great Lakes region is even rarer, and here, too, says Phillips, Carleton is internationally recognized as a pioneer. "There has been nowhere else to get this training."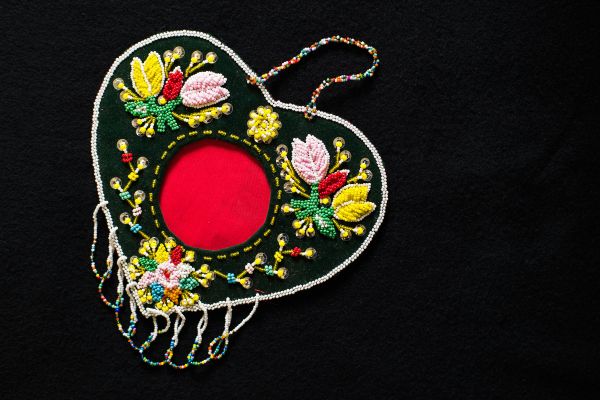 Phillips will continue to champion Carleton's role in training advanced students in Indigenous arts and museology over the next few years. She plans to complete a major book, Seeing Through Translation: Indigenous Visual Cultures in the Great Lakes, which examines art as a site of cultural exchange across four centuries of European contact. She also co-organized the Multiple Modernisms project, which brings scholars in the U.K., South Africa, the U.S., New Zealand and Australia together in a comparative study of modern Indigenous arts. She is co-editor of two of the volumes being produced by this group.
Reflecting on her 35 year career, Phillips' advises young scholars starting out in the field today "not to accept the common wisdom that Indigenous knowledge has been irretrievably lost. There is much exciting new research to be done, and it is critical to work in collaboration and dialogue with members of Indigenous communities."
Share:
Twitter
,
Facebook