January 29, 2016
Photo credit: Luther Caverly
Carleton Welcomes CISCO Chair in the Internet of Things
The power of the Internet is not only making people better connected – it's also helping rewire our perception of houses and businesses. From fridges that broadcast food expiry dates to your smartphone, to the ability to turn on and off the heat via an app, the "Internet of things" promises a world where smart devices communicate with each other to make our lives easier.
There are, however, obstacles in the way of that dream. Standardization between different devices is hard to find, meaning that you need to access different apps and providers to manage different parts of your house. The devices tend to be expensive and unless they serve a specific need, tend not to be popular. A 2015 Guardian article recalls the example of Nabaztag, a plastic rabbit that could alert people nearby when e-mails arrived. But why have a rabbit when you can just check your phone?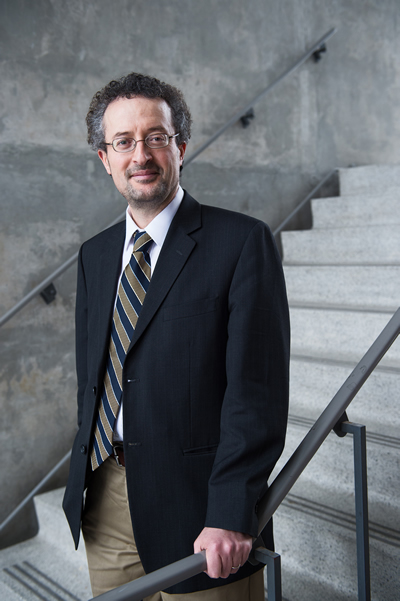 Carleton's Mohamed Ibnkahla has been considering the connectivity problem for several years, particularly when it comes to managing energy for the environment. Smart electricity grids that step up and down demand as needed, highway safety with sensors, and water management are just some of the projects that he has worked on with companies and with several levels of government.
Now he is the university's Cisco Research Chair in Sensor Technology for the Internet of Things. Courtesy of a $1.8-million grant from Cisco during the next nine years, Ibnkahla will find ways to use sensors to improve our lives. Most of the money will go towards hiring researchers, with a smaller amount dedicated to equipment and associated expenses, he said.
"The strategy of the chair is to come up with applications that are immediately relevant to society," he said, listing IT management, health care and education as some examples. "We want to build the technology to work in applications, and make it easy to use by people in their homes, or IT managers. We really want to make the technology very, very close to people."
Born in Sousse, Tunisia – a city well-connected itself when it was founded by Phoenician mariners in the ninth century B.C. – Ibnkahla began studying signal and image processing in Toulouse, France in the 1990s. By 1998, he had his PhD from the National Polytechnic Institute of Toulouse.
He moved to Canada in 2000 to take an assistant professor position at Queen's University. By the time he joined Carleton University last year, he was a full professor and the founding director of Queen's Wireless Communications and Signal Processing Laboratory. He also took on some communications projects with the province of Ontario and the Natural Sciences and Engineering Research Council (NSERC), among others.
In his more than 20 years in the telecommunication research industry, Ibnkahla said he has seen these devices become more relevant and friendly to consumers. Perhaps the peak example of this was the arrival of the iPhone in 2007, which required no special skills to use even if one didn't like computers. Ibnkahla said he envisions this same paradigm shift in the Internet of things.
"We're witnessing the revolution of the second generation of the Internet," he said. "Before it was limited to machine to machine, computer to computer. In the future, it will be very popular and connect people, things, and objects. Anything can be connected." Ibnkahla said he particularly wants to work in fields such as smart homes and highway management.
His plan is for a typical person in their house to be able to automatically do things such as run the washer when electricity prices are lowest, or closely track their water consumption. On the road, commutes could be changed forever as cars exchange information about local conditions and suggest alternate routes to get around traffic jams and construction.
The Chair will require a multidisciplinary approach, with collaborations planned with (for example) civil engineering experts in home building, energy, and materials to build better smart homes – or car designers for traffic management. Health care is another possibility.
"My expertise is communications, and I like to collaborate," Ibnkahla said. "We are interested in linking these sources to the Internet so that the work of hydro companies, for example, can make people aware of what is going on, and advise on the available sources of energy."
Share:
Twitter
,
Facebook