Dani Stock, February 5, 2021
Design Innovation at Carleton Combats the COVID Crisis in Long-Term Care
From food security to education to urban design, the COVID-19 pandemic continues to affect every aspect of life—and with it, every field of academic research.
This couldn't be clearer than at Carleton University where timely discoveries emerging from all five faculties are accelerating the ability to keep people healthy, prevent outbreaks and better manage global responses to infectious disease.
Beginning last March when the province entered lockdown, researchers across the university in every discipline, from architecture to artificial intelligence, answered the call to swiftly pivot their focus and help tackle the growing threat of the pandemic.
Since then, the Office of the Vice-President (Research and International) has awarded $800,000 in research grants to 59 professors to support rapid responses to COVID-19. The initiative intensifies the impressive breadth and depth of world-class health and wellness research happening at Carleton and reinforces the university's leadership in both fields.
Infection control and prevention—by design
While Carleton researchers continue to advance our understanding of the virus and our ability to control it, they are also helping communities safely adapt to the turbulence created by the pandemic.
For Chantal Trudel, a professor in the School of Industrial Design, addressing that challenge led her to launch an innovative project with the potential to protect Canada's most vulnerable population. Of all areas reeling from the impact of COVID-19, none has been harder hit than long-term care.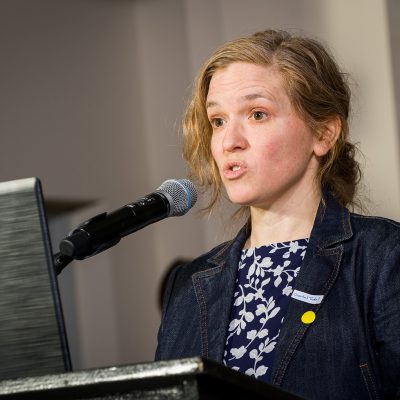 The coronavirus has disproportionately impacted those over 70 and, since the start of the pandemic, virus-related deaths in Canadian long-term care account for 68% of all deaths, according to data from the National Institute on Ageing as of February 5, 2021.
In response to this urgent situation, Trudel and her team kickstarted research to improve long-term care spaces by designing them in a way that protects residents and staff from infectious disease.
Trudel and her partners received a $40,000 grant from the Foundation for Health Environments Research in the United States to complete the one-year project. See the box to the right for a listing of her team members.
Working with partners at the Bruyère Research Institute and the Ontario Centres for Learning, Research and Innovation in Long-Term Care, Trudel and her team will take an innovative approach to rethinking planning and design in long-term care as a way to prevent and control infection.
Tackling the complexities of long-term care
Trudel's 10 years of field experience planning and designing complex building systems and health care environments make her acutely aware of the complexities of long-term care design. "Unlike hospitals, which are clinical in nature, long-term care environments are residents' homes," said Trudel. This presents a major challenge when it comes to designing for infection prevention and control.
Long-term care homes need to maintain a high quality of life for residents, ensuring spaces are comfortable and inviting—but they also need to be safe. Efforts to create a warm home environment can contradict the infection and prevention protocols prevalent in clinical environments.
Trudel's team will work to develop plans that meet the twin criteria of comfort and safety.
In addition, their designs will address the critical demands on healthcare workers during the pandemic—specifically, the pressure they face to balance safety, efficiency and quality in long-term care.
During the pandemic, healthcare workers are responsible for completing increasingly rigorous safety protocols and wearing cumbersome personal protective equipment, all while meeting their regular patient care duties.
Trudel says strategically planning and designing long-term care spaces to be more efficient can help address those challenges, reduce the burden on workers and keep residents safer.
Forging ahead at the frontlines
Over the next year, Trudel and her colleagues will collaborate remotely with staff in participating long-term care homes to create COVID-friendly design plans that could also be used to prevent future respiratory outbreaks.
The team will also work with future long-term care homes and those undergoing renovations to co-create infection-prevention design strategies.
With long-term care at the epicentre of the coronavirus pandemic, Trudel and her colleagues are poised to drive much-needed solutions at the forefront of the crisis.
Research-based long-term care planning and design will strengthen protection for residents and healthcare workers—and has the potential to save countless lives, whether during the current pandemic or a future virus outbreak.
Advancing health and wellness across disciplines
By applying industrial design and infection prevention principles to control COVID-19, Trudel's work is a shining example of how innovative thinkers in every discipline are rising to the challenge of our current global emergency.
Like Trudel, other Carleton researchers from diverse fields of study have rallied to support the safety of healthcare workers and patients at the frontlines of the pandemic response.
Mechanical and Aerospace Engineering professor Mojtaba Ahmadi, for example, is working quickly to create a robot that lets doctors assess COVID-19 patients remotely, mitigating the risks they face every day.
Biology professor Alex Wong is also using his research to create safer environments for healthcare workers and patients, as he develops protocols for detecting the virus in healthcare settings.
Researchers are making promising discoveries when it comes to controlling the spread of infection, too. A collaborative project between Ashkan Golshani and Frank Dehne, professors in Biology and Computer Science respectively, is using artificial intelligence and big data to expand our understanding of the evolving virus. The two colleagues are exploring the power of peptide treatments to prevent the replication of SARSCoV-2, the virus that causes COVID-19.
As Carleton researchers continue to accelerate health and wellness research to support the coronavirus response, their work is as multifaceted as the pandemic itself. Explore more ground-breaking discoveries at research.carleton.ca.
Share:
Twitter
,
Facebook