Ellen Tsaprailis, December 8, 2021
Photo credit: Lindsay Ralph
Developing New Technology for Clean Energy at Carleton
Reza Kholghy is developing a new technology to generate green hydrogen using just aluminum and water at Carleton's Energy and Particle Technology Laboratory.
The Canada Research Chair in Particle Technology and Combustion Engineering was recently awarded $75,000 from a Natural Sciences and Engineering Research Council of Canada (NSERC) Alliance grant and the Ontario Centre for Innovation's Voucher for Innovation and Productivity program to fund his project titled, Aluminum-water reactions promoted by nano catalyst made with Flame Spray Pyrolysis.
Kholghy and his team are creating hydrogen by burning aluminum—a technique that only requires water and aluminum and could help off-grid communities generate green hydrogen without reliance on fossil fuels or electricity.
Why aluminum? It's the second most abundant element and a sustainable resource.
"In Canada, the carbon footprint of generating aluminum is very low mainly because most of the aluminum is produced with renewable electricity," says Kholghy. "This process uses recycled aluminum and what it produces is green hydrogen. So, no CO2 is involved during the hydrogen generation process."
In partnership with two startup companies in Ontario, Kholghy is working with their engineers to harness this hydrogen and recover the heat of reaction to generate electricity and commercialize the alumina created (aluminum oxide ceramic material) which could have a lot of applications in industry.
Since the current method of producing hydrogen emits as much CO2 into the atmosphere as burning methane and does not benefit the climate, the hope is that this new clean technology will be successful when they can harness the products of aluminum combustion with water.
"The big question is what should be the process conditions?" says Kholghy. "What should be the properties of the fuel? What temperature, pressure or conditions are suitable for this process to happen? That's what we are focused on—being able to control the process is the key to feeding aluminum into the reactor."
In trying to figure out how to burn aluminum to generate the hydrogen, Kholghy describes the challenge in a similar way to how the first gasoline engine was built.
"The knowledge that we have for combustion of aluminum or reaction of bottle aluminum with water is similar to the knowledge that we had for combustion of gasoline 80 years ago," says Kholghy. "What we need to understand is how aluminum burns during reaction in water and how can we control its burning rate?"
The lab-scale reactor Kholghy and his team have designed is focused on controlling this reaction and having the ability to scale up to give the desired hydrogen generation and heat release rate that can be used for electricity generation.
This project will use the lab-scale reactor to find out what kind of aluminum particles could react within the temperature and pressure range of interest. After that, Kholghy and his team will build a small-scale reactor that is similar to the commercial reactor the partner companies are planning to make at Carleton.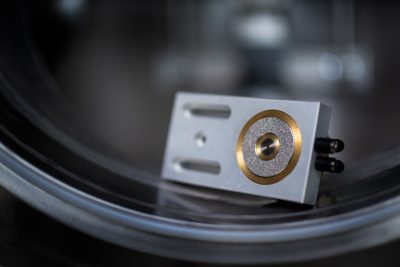 Share:
Twitter
,
Facebook