Suzanne Bowness, May 21, 2020
Photo credit: Luther Caverly
Driving the Next Generation: Richard Yu Receives Funding to Train Students In Connected and Autonomous Vehicle Technology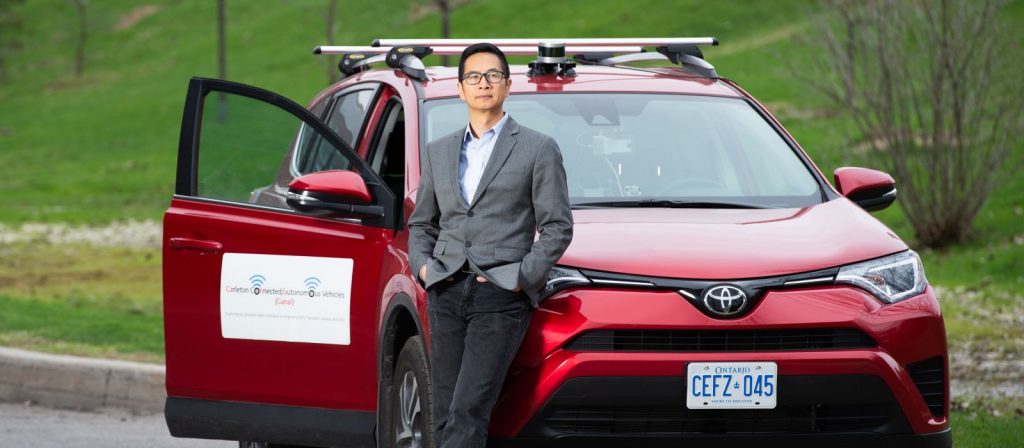 Already known as a leading hub for connected and autonomous vehicles, Carleton is set to increase its profile as a training centre for the next generation in this fast-growing industry, thanks to a $1.65 million Collaborative Research and Training Experience (CREATE) grant from the Natural Sciences and Engineering Research Council of Canada.
Richard Yu, professor in the School of Information Technology (cross-appointed to the Department of Systems and Computer Engineering) and principal investigator for the Building Trust in Connected and Autonomous Vehicles project, says he's particularly excited to grow the interest in the Connected and Autonomous Vehicles (CAV) industry, one that he expects to reach $7 trillion by 2050.
Carleton, which currently leads a total of five NSERC CREATE grants, is well positioned for success in this program due to its commitment to experiential learning and partnership with industry and government.
Training a major focus
The CREATE grant will fund 180 placements for students from undergraduate through PhD at 12 organizations including Blackberry QNX, Nokia, Transport Canada, and more. A bulk of these positions are at the Master's level since that is currently the average credential for workforce entry into this field and has the most potential to supply the CAV firms of the future. Furthermore, 15 percent of the opportunities are set to train those in disciplines outside the engineering field, seeding fields such as law and business with CAV specialists.
The effort also aims to equalize students' knowledge by funding community training and knowledge-sharing opportunities, including short technical courses on topics from programming to ethics, hands-on workshops, a professional development seminar series and an annual colloquium on connected and autonomous vehicles.
A new network
Besides training, the project brings together collaborators within Carleton as well as other universities across Canada including University of Ottawa, Queen's University, University of Windsor and University of Waterloo, as well as the University of Texas at Austin and Beijing Jiaotong University.
"To the best of my knowledge, it's the first such team in Canada, with 11 professors from five different universities. Working together, we can share knowledge and experience to improve our research output, and that will lead to richer collaborations across the industry," he says.
In addition to the engineering professors who you would expect to participate in this type of project, Yu has also sought out collaborators in  other areas, such as professor Elizabeth Judge from the Faculty of Law at the University of Ottawa to address legal, ethical and regulator issues related to CAV; and professor Yuriy Zabolotnyuk from Carleton's Sprott School of Business, whose research focuses on blockchain technology in CAVs.
The project research goals will furthermore focus on some of the more challenging and underdeveloped areas of CAV research, such as designing effective sensors and connectivity for CAVs and analyzing vulnerabilities and risks in the technology, along with continuing to design  safe and secure CAVs.
Carleton ideal for CAV
Yu says that Carleton is an ideal location for CAV research, with its proximity to federal government partners and large companies like Blackberry QNX, which in February 2019 made a joint announcement with the federal government to invest $350 million in the technology. Carleton University is already considered a leader in autonomous systems research with many projects underway looking at autonomous vehicle safety issues such as sensors, cybersecurity and collision avoidance. Additionally, Ottawa is already known as an international hub for CAV research and is home to a 16-kilometre all-weather L5 test track. The city's winter weather also provides the perfect environment for testing CAV technology in some of the more challenging driving conditions, such as freezing rain and snow.
While CAV technology has already advanced to the point where vehicles are being road-tested, Yu points to recent news coverage of public fails as proof that there are still many elements to improve, from cybersecurity to programming challenges. "Autonomous vehicles are very complicated," says Yu, whose own research focus looks at networks, artificial intelligence, and cybersecurity.
An exciting future
He says that while refining the technology to the point where it can be widely used will take time, CAV technology holds incredible potential, from its ability to offer transportation options to those like seniors who may no longer be able to drive, or to automate commercial delivery, something that has become increasingly recognized during the pandemic as a necessary option.
Yu says that students already excited about working on CAV technology have become even more so now that they can test their programming efforts behind the wheels of real cars on the Ottawa track. Beyond engineers who work on programming CAV technology, Yu is also pleased to offer the CAV specialization to a broader range of disciplines.
"Because we have many collaborators, we can train the students from different aspects," says Yu.
"I'm from information technology and I'm going to talk about networking and artificial intelligence, and people from civil engineering can talk about regulations for the road and infrastructure, and professors from the law department can talk about regulations related to autonomous vehicles. Diverse expertise from different disciplines is going to be very good for the students."
Share:
Twitter
,
Facebook